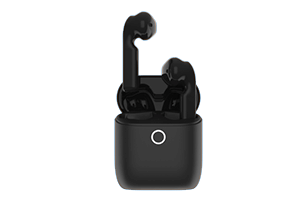 BB-HD1 Wireless Noise Cancelling Headphones
High Definition Audio with Superior Bass Performance
Ergonomic Design Optimised for Comfort
AptX Low Latency Audio with High Definition Microphone
High intelligibility on voice and video calls
13hours with ANC On, 20h with ANC Off
Bluetooth 5.0
Connect seamlessly to Android and iOS systems
RRP €74.99 (Incl. VAT)
ONESONIC® BB-HD1 Wireless Noise Cancelling Headphones
The ONESONIC® BB-HD1 Wireless Noise Cancelling Headphones integrate high performance 40mm polymer coated drivers with the highly capable Qualcomm® QCC3008 chip. The BB-HD1 headphones are enabled with Qualcomm® cVcTM Noise Cancellation Technology and Qualcomm® aptX HD codecs, giving the user an optimised music listening experience. This device delivers excellent audio quality including full and tight bass, with clear and vivid mid and high frequency sound. The ONESONIC® BB-HD1 is enabled to provide dual connectivity over Bluetooth® 5.0, which along with the integrated digital microphone, allows the user to seamlessly switch between listening to music on one device, to taking voice or video calls with high speech intelligibility on another device. The ONESONIC® BB-HD1 is presented in an ergonomically optimised package using protein-based ear cups giving the user enhanced comfort over extended periods.
Summary of Features:
High Definition Audio with superior Bass Performance
Qualcomm® QCC3008 chipset with aptX HD
Ambient Noise Cancellation (20dB to 25dB) frequency dependent
Wireless Connectivity with Bluetooth® 5.0
Low Power Qualcomm® KalimbaTM Digital Signal Processor with on chip ROM and RAM, and Stereo codec
40mm Polymer coated Speaker Drivers giving full, tight bass and clear middle and high frequency audio performance
Supports AVRCPv1.5, A2DP v1.3 and HFP v1.7 Bluetooth Profiles
Compatible with iOS and Android devices
Gross device weight of 253g coupled with protein-based ear cups, giving enhanced user comfort over extended periods
500mAh Li-ion battery, 2hours for full charge, 13hours with ANC on, 20hours with ANC off
Effective range: approximately 10m
Micro-USB charging
Auxiliary In
What's in the Box:
ONESONIC BB-HD1 Headphones
Custom EVA Carrier Case
USB to Micro-USB Charging Cable
3.5mm Audio Cable
BB-HD1 User Guide
BXS-HD1 True Wireless Stereo Earphones
High Definition Audio with Superior Bass Performance
Ergonomic Design Optimised for Active Wear
Dual Microphone for High Quality Voice Calls
4h Working Time, 20h Total Battery, Fast Charging
Bluetooth 5.0
IPX4 Splash and Sweat Resistant
Connect seamlessly to Android and iOS systems
RRP €59.99 (Incl. VAT)
ONESONIC® BXS-HD1 True Wireless Stereo Earphones
The ONESONIC® BXS-HD1 True Wireless Stereo Earphones integrate 13mm high performance speaker drivers with the Airoha 1536U digital signal processor to give excellent sound quality including deep bass with clear mid and high frequency sound. Featuring an optimised ergonomic design with a lower ear lobe "cut-out", the ONESONIC® BXS-HD1 Earphones fit snuggly into the outer ear which makes this device ideal for listening to music while exercising. This device is IPX4 which makes it sweat and splash resistant. Touch controls allow the user to seamlessly adjust volume, change track, Play / Pause, answer or reject phone calls and activate Voice Assistant with simple touch inputs to the left or right earphone. The ONESONIC® BXS-HD1 Earphones feature a dual digital microphone which allows the user to make and receive phone and video calls seamlessly while otherwise listening to music on your mobile device. This device is compatible with Google Assistant and Siri, and is otherwise compatible with iOS and Android systems.
Summary of Features:
High Definition Audio, full and tight bass with smooth and clear middle and high frequency audio
Ergonomically designed with lower ear lobe "cut-out" to give snug fit in outer ear, suitable for exercise
Touch Controls, Google Assistant and Siri compatible
Wireless Connectivity with Bluetooth® 5.0
Supports HFP1.7, A2DP1.3, AVRCP1.6, SPP1.2 Bluetooth Profiles
13mm Speaker Drivers optimised for high quality audio performance
Airoha 1536U digital signal processor
Dual digital microphone on Left and Right Earphone
Effective range: approximately 10m
Compatible with iOS and Android devices
Earphone: 40mAh Li-ion battery, Case: 400mAh Li-ion battery, 1.5hours for full case charge, 3-4hours play / talk time per Earphone charge, fully charged case can provide 4 full charges
USB Type-C Fast Charge Enabled
Effective range: approximately 10m
What's in the Box:
ONESONIC BXS-HD1 Earphones with Charging Case
USB to USB Type-C Charging Cable
BXS-HD1 User Guide